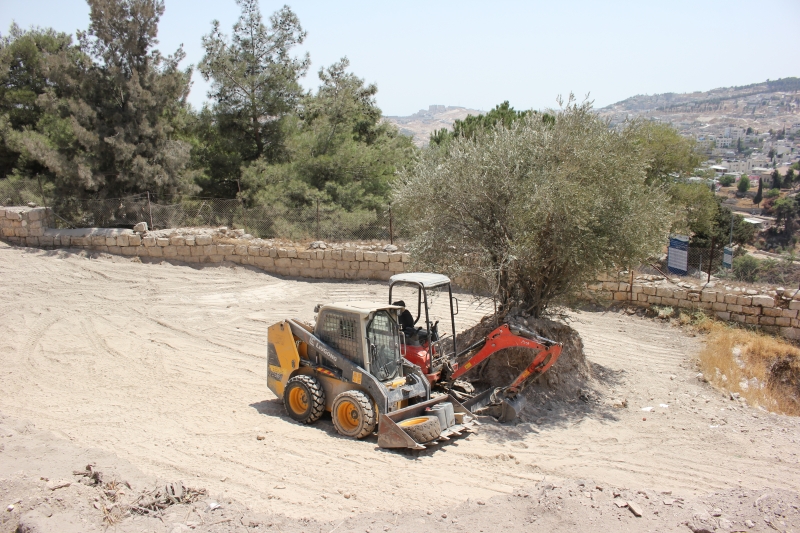 Vorkampagne 2016
Im Mai 2016 wurde eine zweite Vorkampagne durchgeführt. Sie diente der Vorbereitung des Geländes für die archäologische Arbeit ab September 2016 und der Stabilisierung des Grabungsbereiches. Die Arbeiten wurden vom Freundeskreis des Biblisch-Archäologischen Instituts Wuppertal finanziert.
Im Jahr 2016 wurden Bagger eingesetzt, um die Profilwände an beiden Seiten der Friedhofsmauern um etwas mehr als einen Meter abzutragen. Dabei handelt es sich nicht um archäologisch signifikante Schichten, sondern um Aufschüttungen aus den Terrassierungsarbeiten bei der Erweiterung des Friedhofs in der ersten Hälfte des 20. Jahrhunderts.
Nach Beendigung der Arbeit mit den schweren Maschinen wurden die Grabungsbereiche für die Herbstkampagne 2016 ausgewählt. Die Grabungen bestanden aus Sondagen, die auf die byzantinische Bebauung vorstießen. Danach wurde in einigen Bereichen noch einmal von der Hilfe des Baggers Gebrauch gemacht und die Deckschichten aus dem 20. Jh. n. Chr. abgenommen.
Preliminary Campaign Spring 2016
During a preliminary campaign in May 2016 the area of the Anglican-Prussian cemetery was prepared for the excavations in September 2016. The work was funded by the Friends of the Institute for Biblical Archaeology Wuppertal.
Excavators have been used to remove 1 m high sections of modern debris along the cemetery walls. The material removed is modern and of no archaeological value.
After the work with excavators was finished the areas for the excavations in fall 2016 had to be chosen. Therefore, soundings have been excavated until byzantine levels were reached. After that, excavators were used again to remove more of the modern topsoil accumulated in the 20thcentury AD.