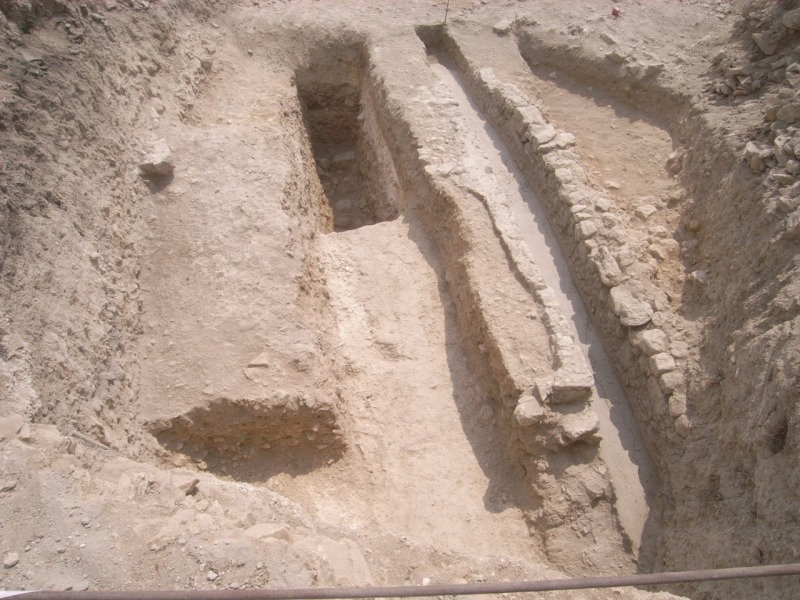 Areal II (2017)
Im 'Griechischen Garten' wurde im Sommer 2017 ein 6 x 6 m breiter Testschnitt angelegt, um die Lage der byzantinischen Bebauung (als oberstes zu erwartendes Stratum) und deren Zustand unter den mächtigen osmanischen und modern Schuttschichten zu lokalisieren. Das Gebiet lag seit 747 n. Chr. außerhalb der Stadtmauern. Hier akkumulierte sich daher reichlich Schutt und Müll.
Die byzantinische Schicht ist durch eine etwa einen Meter hohe, ungestörte Kulturschicht abgedeckt und durch ein mächtiges Kalkband aus der osmanischen Zeit (761,59 m NN; 2,01 m unter der heutigen Oberfläche) versiegelt. Oberhalb dieses Kalkbandes wurde ein Kanal aus osmanischer Zeit freigelegt. Er wurde mit hydraulischem Verputz (Befund 20016) ausgekleidet.
Außerdem wurde in den letzten Grabungstagen 2017 eine Siedlungsschicht aus dem ersten vorchristlichen/ersten nachchristlichen Jahrhundert belegt. – Dieses Gebiet soll in 2018 weiter untersucht werden.
Area II (2017)
The research square in the Greek Garden was placed in the southern edge on the slope of the hill of Mt. Zion in summer 2017. The proximity to the rock scarp of Mt. Zion – in which Bishop Gobat School as well as two Miqwaot in the Protestant Cemetery area built – seemed to allow architectural results that might be comparable to the findings of the excavation of Neria Sapir and Amit Reem in the south-eastern corner of the Garden, right above the rock scarp as well. Here, remnants of a big house with multiple phases could be exposed.
The location of the research square was defined by the IAA excavation in the east and terraces that have been built recently to support Gobat School in the west. As the GPIA clearly defined the square as a research sounding it was only one square of 5×5 m that has been opened.
After two days of digging topsoil, mechanical tools have been used to reach archaeologically interesting layers in a reasonable time. On the level of a collapsed mosaics the excavators were stopped to return to manual work. The mosaic stayed a single find without architectural connection. More than half a meter deeper a water channel could be exposed. To preserve this, it hasn't been removed, so the excavation only continued in the east of it. Although already deeper than the remnants of the "IAA-mansion" in the east, no bigger architectural structure could be exposed. In this deep cut, a north-south-directed single row of stones without a foundation was found. The channel is supposedly Islamic, it seems that there was a medieval pit next to it.