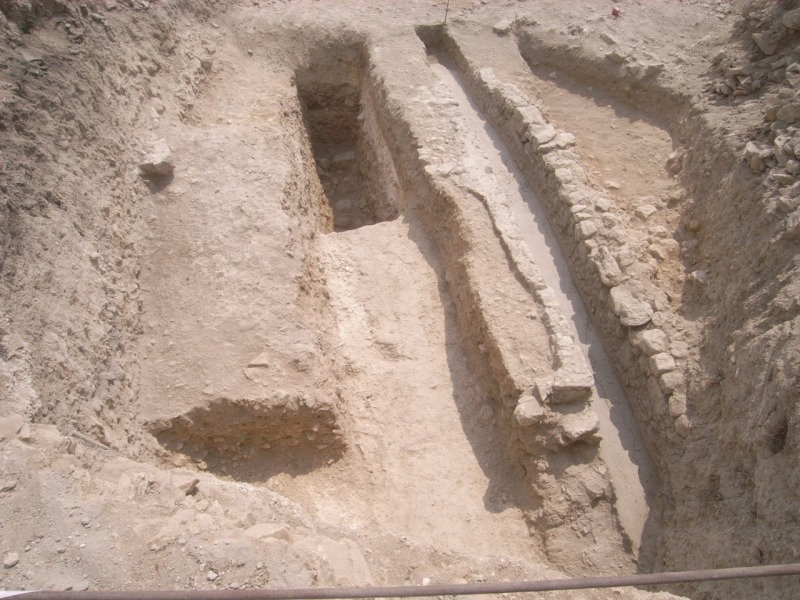 Areal II 'Griechischen Garten' (2017)
Im "Griechischen Garten" wurde im Sommer 2017 ein 6 x 6 m breiter Testschnitt angelegt, um die Lage der byzantinischen Bebauung (als oberstes zu erwartendes Stratum) und deren Zustand unter den mächtigen osmanischen und modern Schuttschichten zu lokalisieren. Das Gebiet lag seit 747 n. Chr. außerhalb der Stadtmauern. Hier akkumulierte sich daher reichlich Schutt und Müll.
Die byzantinische Schicht ist durch eine etwa einen Meter hohe, ungestörte Kulturschicht abgedeckt und durch ein mächtiges Kalkband aus der osmanischen Zeit (761,59 m NN; 2,01 m unter der heutigen Oberfläche) versiegelt. Oberhalb dieses Kalkbandes wurde ein Kanal aus osmanischer Zeit freigelegt. Er wurde mit hydraulischem Verputz (Befund 20016) ausgekleidet.
Außerdem wurde in den letzten Grabungstagen 2017 eine Siedlungsschicht aus dem ersten vorchristlichen/ersten nachchristlichen Jahrhundert belegt. – Dieses Gebiet soll in 2018 weiter untersucht werden.
Area II "Greek Garden" (2017)
In the Greek Garden a sounding measuring 6 x 6 m placed along the southern edge on the slope of the of Mt. Zion in summer 2017. Except for short periods, this area lay outside the fortification of the town since 747 AD The goal was to locate the Byzantine settlement remains and assess their condition below massive layers of debris from the Osman and modern eras.
2 m below today's surface, layers of the Osman times era including a contemporary channel, sealed yet another meter of undisturbed accumulation. Below those, remains of the Byzantine Era were found.
During the last days of the excavation, hints for remains from the timeframe between 1stcentury BC to 1stcentury AD could be found.