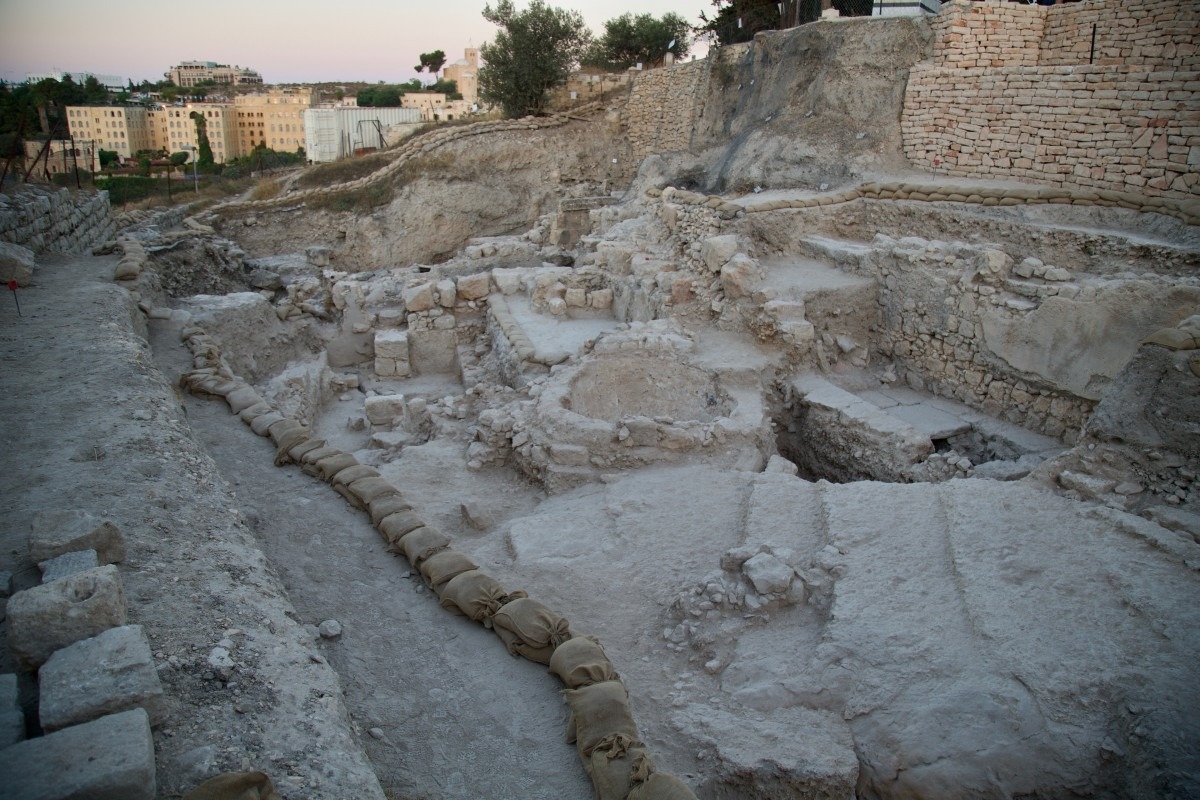 Kampagne im Zionsfriedhof 2018
In der Ausgrabung in Areal 1, dem Zionsfriedhof, wurde 2018 ein großer Teil der byzantinischen Bebauung freigelegt. Dabei fügen sich verschiedene Räume nun zu einzelnen Gebäuden zusammen, die sich in Stufen über den steil abfallenden Zionsberg erstrecken. Stellenweise gründen die Fundamente direkt auf dem anstehenden Fels.
Andere Gebäude wurden in Byzantinischer Zeit, zur allgemeinen Überraschung, direkt über hasmonäisch-herodianische Straße erbaut. Diese war mit großen Steinplatten ausgelegt, die einen Abwasserkanal unter dem Fahrweg überspannte. Der Kanal führte bis unterhalb des Stadttores und entwässerte dort außerhalb der Stadt. Dieses Teilstück war bereits von den Pionieren BLISS und DICKIE entdeckt worden und wurde 2015 wieder freigelegt. Im Nordosten des auf der Straße errichteten Hauses fanden sich in Sondagen weitere Teilstücke von Straße und Kanals. In der von BARGIL PIXNER bei der israelischen Antikenbehörde hinterlegten Dokumentation und bei BLISS und DICKIE wird von einem längeren Teilstück der gleichen Straße nordöstlich des diesjährigen Grabungsgeländes berichtet. Dieses soll zukünftig erneut erkundet werden.
Die byzantinischen Hausgründungen auf dem früheren Verkehrsweg – angelegt einige Jahrhunderte nach der Zerstörung der Stadt durch Titus 70 n. Chr. – zeigen, dass die zeitgenössische, vom Südwesttor herkommende Straße nordwestlich des DEI-Grabungsgeländes gesucht werden muss und vermutlich anders als der römische Fahrweg eher als Gasse für Transporte per Esel und für Fußgänger angelegt war. Dies entspricht den byzantinischen Gepflogenheiten auch an anderen Orten der gleichen Zeit. Die byzantinische Überbauung der römischen Infrastruktur nutzte weiterhin den früheren Abwasserkanal unter der inzwischen verschütteten Straße. So findet man neben aufwendig konstruierten Frischwasserkanälen auch mehrere Ableitungen aus byzantinischen Häusern, die entweder direkt oder über kleinere Kanäle ihren Weg in den ursprünglich zentralen römischen Abwasserkanal finden.
Die hasmonäisch-herodianischen Architekten gaben der Straßenplanung Vorrang. Sie wurde geradlinig und mit einem gleichmäßigen Gefälle zum Tor hin angelegt. Gleichgültig, ob der anstehende Felsen abgearbeitet oder die Straße künstlich durch Steinstrukturen angehoben werden musste – die Bebauung der hasmonäisch-herodianischen Zeit folgte der vorausgehenden Stadtplanung.
Die byzantinischen Bauten, die aufgefundenen handwerklichen Installationen und das Wasserleitungssystem datierten wie die byzantinische Ummauerung (Eudokia) in das 5.-6. Jahrhundert n.Chr. Sie stehen für einen Wohn- und Handwerkerbereich aus clusterartig aneinandergefügten Räumen, ausgestattet mit moderatem Reichtum. Dieser spiegelt sich nicht allein in der beschriebenen Bausubstanz, sondern auch in den Kleinfunden. Die Keramik besteht zum Teil aus Import- oder feiner Ware, die lokal hergestellt wurde. Zudem fanden sich Metallgegenstände, wie etwa Bronzenadeln, oder auch filigran bearbeitete Knochen. Die oftmals vollständig erhaltenen Öllampen sind mit christlicher Symbolik versehen, die für diesen Zeitraum typisch ist.
Die diesjährige Kampagne gab dem Grabungsteam neben dem Einblick in das Alltagsleben auch eine Übersicht über die Stratigraphie. In den nächsten Jahren richtet sich der Blick auf die frühen römischen und vielleicht sogar auf die Siedlungsschichten der Eisenzeit.
In the excavation in area 1, the Mt. Zion cemetery, a large part of the Byzantine buildings was uncovered in 2018. Now various rooms form to individual buildings, which extend in steps over the steeply sloping Mt. Zion. In places, the foundations are directly based on the existing rock.
Other buildings were built in Byzantine times, to general surprise, directly over Hasmonaean-Herodian road. This was covered with large stone slabs spanning a sewer under the road. The canal led to below the city gate and drained outside the city. This section had already been discovered by the pioneers BLISS and DICKIE and was uncovered again in 2015. In the northeast of the house constructed on the road, further sections of road and canal were found in sondages. In the documentation deposited by BARGIL PIXNER at the Israeli Antiquities Authority and with BLISS and DICKIE, a longer section of the same road northeast of this year's excavation site is reported. This is to be explored again in the future.
The Byzantine house foundations on the former traffic route – laid out a few centuries after the destruction of the city by Titus in 70 AD – show that the contemporary road coming from the southwest gate northwest of the DEI excavation site had to be searched for and probably, unlike the Roman road, was laid out more as a lane for donkey transport and pedestrians. This corresponds to Byzantine customs in other places at the same time. The Byzantine construction over the Roman infrastructure continued to use the former sewer under the now buried road. In addition to elaborately constructed fresh water canals, there are also several drains from Byzantine houses, which either directly or via smaller canals find their way into the originally central Roman sewer.
The Hasmonaean Herodian architects gave priority to street planning. It was laid out in a straight line and with an even gradient towards the gate. Regardless of whether the existing rock had to be worked off or the road artificially raised by stone structures – the buildings of the Hasmonaean Herodian period followed the previous urban planning.
The Byzantine buildings, the handcrafted installations found and the water supply system, like the Byzantine walled enclosure (Eudokia), date from the 5th to the 6th century AD. They stand for a residential and craftsman's area consisting of cluster-like rooms, equipped with moderate wealth. This is reflected not only in the building fabric described, but also in the small finds. The ceramics consist partly of imported or fine goods, which were produced locally. In addition, metal objects such as bronze needles or filigree bones were found. The often completely preserved oil lamps are provided with Christian symbolism, which is typical for this period.
This year's campaign gave the excavation team not only an insight into everyday life but also an overview of stratigraphy. In the coming years, the focus will be on the early Roman and perhaps even the Iron Age settlement layers.